Hotel rooms in various price categories have been reserved at a special conference rate throughout the city for participants (limited availability). Please find below the list of recommended accommodation.
| Hotel | Rate (*) | Available Rooms | Distance to the venue |
| --- | --- | --- | --- |
| Sansi Pedralbes | 156 € + VAT | 60 | 450 metres, 6 minutes walking |
| Atiram Arenas | 135 € (VAT INCLUDED) | 25 | 1,1 km, 15 minutes walking |
| Atiram Tres Torres | 125 € (VAT INCLUDED) | 30 | 2 km, 25 minutes walking |
| Hotel Senator Barcelona | 107 € + VAT | 20 | 2,65 km, 20 minutes walking or 11 minutes bus l54 |
| Residence Torre Girona | 65 € (VAT INCLUDED) | 20 (single) + 5 (double) | 1 minute to the conference venue |
| Atenea Barcelona | 110 € | 20 | 1,6 km, 20 minutes walking |
|  Residencia Resa Diagonal | |  subject to availability |  1,5 km, 15 minutes walking |
(*) The prices of the rooms are approximated (for single room with breakfast included).
Hotel Sansi Pedralbes (4*)

A spa, peaceful gardens and stylish rooms with free Wi-Fi and a plasma-screen TV are offered at Sansi Pedralbes. It is just 250 metres from Pedralbes Monastery and 700 metres from the conference venue. Decorated in soft blues and browns, this design hotel's air-conditioned rooms come with a minibar and safe. Bathrooms include toiletries. Buses to central Barcelona stop within 100 metres of the hotel, and city tour buses stop at Pedralbes. Reina Elisenda Station is 800 metres away and Barcelona Airport is a 15-minute drive away.
Booking instructions
Send the booking form to their email address pedralbes@sansihotels.com.
Hotel Atiram Arenas (4*)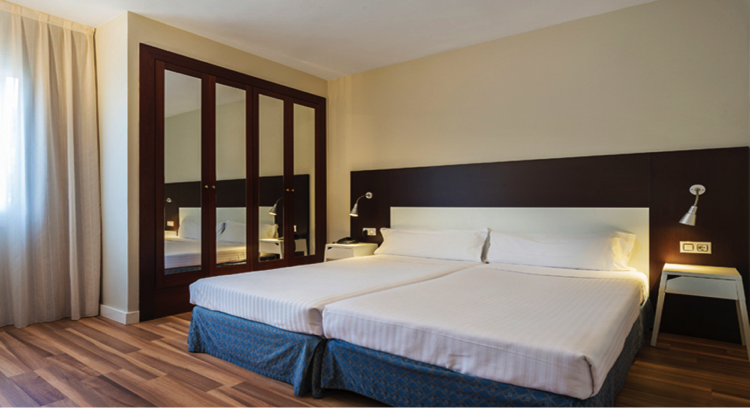 The Hotel Arenas offers a highly personalized service together with very friendly, elegant facilities to make guests feel even better than in their own homes. Hotel Arenas, which opened to the public at the end of the 'sixties, is a 4-star hotel which offers fully equipped and sound-proofed rooms. The Hotel Arenas is characterized by its unsurpassable location thanks to excellent public transport connections (metro, tram and buses) and is only a few meters from the main Diagonal thoroughfare. It is in the district where there are university campuses and the Camp Nou football stadium.
Hotel Atiram Tres Torres (3*)

Located in the center of one of the best residential neighbourhoods of Barcelona next to a diverse educational and university centers of prestige. Well communicated by different transport options: nearby stop station ("Tres Torres"), railroads of the Autonomous Government of Catalonia and metropolitan buses. This Hotel has cozy and comfortable rooms, all of them soundproofed and adequately equipped.
Hotel Senator Barcelona (4*)

In the upper part of Barcelona, close to the Camp Nou, Diagonal Avenue, Fira de Barcelona and the centric area, Senator Barcelona Spa Hotel offers you a complete range of facilities and services intended to bring you a unique stay. The hotel also has a spa (surcharge), a gym, meeting rooms and a restaurant, the perfect place to relax and enjoy the city of Barcelona.
Booking instructions
To manage room bookings, customers can get in touch with us at the following telephone to confirm your reservation:+ 34 902 533 532, state Department Groups (Option 2 machine) or via e-mail: grupos.senator@playasenator.com or grupos2@playasenator.com or grupos3@playasenator.com, informing you want to make the room reservation for the *"EVENT UPC" REF:* *EEGP*.
Contact: Katherine Carrero, Vanessa Molina or Estefania Perez to manage such reserves need:
Full name of client hosted
Dates
A contact telephone number
A fax or e-mail to send the confirmation
A credit card to guarantee the reservation, with expiry date. They must make the payment of the 1st night with credit card (Visa or Master Card) through the payment gateway that will ship with the booking confirmation. The rest of the payment at the hotel on arrival. You may cancel your reservation without charge until 72 hours before arrival. With later cancellations and no-shows the hotel will charge the 1st night as cancellation fees.
Deadline for booking date: 20.06.2017. From that date, depending on hotel occupancy and the number of rooms sold it will revisit the option to increase the term listed special
University Residence Torre Girona

Located one minute walking distance from the conference venue, this residence offers comfortable rooms at a very reasonable cost. The residence is very well connected via public transportation to the city center (10-15 minutes).
Hotel Atenea Barcelona (4*)
At Diagonal Avenue, right at the heart of the shopping, financial and business activity of the city, Atenea Aparthotel is part of a modern, new architectonic complex. It has 105 apartments of 35 m2 with bedroom, living room, bathroom and kitchen, equipped with all amenities and services. Breakfast buffet with over 60 artisanal products to start the day. Internet, business corner and free ADSL WIFI connection in all rooms and common areas.
Booking instructions
Via this link.
Residencia Resa Diagonal
We are located in the upper area of Barcelona, next to the Campus Nord of the UPC and the Universitat de Barcelona. Excellent connected with the centre of the city by metro and bus. The nearest metro station (just 5 minute walk) is Maria Cristina, on the Avenida Diagonal, one of the main streets of Barcelona, where you will find a large variety of stores, restaurants and green areas.
Booking instructions
Via this link.